The music of the Seasons: Vivaldi vis-à-vis Piazzolla
I Bei Legami Ensemble
Pisa, 14th June, 2022 – Stazione Leopolda – 20:30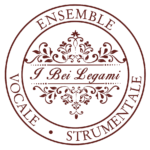 Programme
Antonio Vivaldi (1678-1741)
Autunno RV293
Astor Piazzolla (1921-1992)
Invierno Porteño
Soloist: Alessio Mannelli
~ ~ ~
Antonio Vivaldi
Estate RV315
Astor Piazzolla
Primavera Porteña
Soloist: Emanuele Luzzati
~ ~ ~
Astor Piazzolla
Fuga y misterio per orchestra d'archi
Conductor: Pietro Consoloni
First Violins
Emanuele Luzzati*
Alessio Mannelli*
Michela Puca,
Lidia Parra

Second Violins
Arianna Giannecchini*
Nancy Parra
Camilla Calini
Viole
Debora Caretto*
Matteo Tripodi


Cellos
Alessandro Maccione*
Giulia Casini
Double Basses
Chiara Riccetti
Continuo
Tommaso Nicoli
*principals
In this program, the chamber ensemble "I Bei Legami" pulls together the music of two very popular composers, Antonio Vivaldi and Astor Piazzolla. The music being performed is testimony to how the Italian Baroque, which saw in Vivaldi its greatest interpreter, has never ceased to inspire genres and generations of composers over the centuries. The evocative style, the polyphonic virtuosity, and the advanced potential of the violin opened the field for Vivaldi to seal, in his "Seasons", the perfect combination of Music and Nature. Probably these naturalistic and ornithological references have found flourishing inspiration in the onomatopoeia of tango, a dance in which the sensuality of the movements embroiders a properly baroque warp.
Inspired by this dance, Astor Piazzolla, of whom the current year marks the 30th anniversary of his death, wrote his: "Las Cuatro Estaciones Porteñas". A wise collection and refined writing give life to an Argentine pastiche in which Vivaldi's quotes alternate with contaminations from the European musical world: the theme of madness, passacaglia, and even the canon of Johann Pachelbel. Mid-seasons, and their intemperance, partly baroque and partly porteñas, will show themselves to the listener in all their relevance.
The name "I Bei Legami" refers to the first number of the collection "Scherzi Musicali" by the famous composer Claudio Monteverdi, published in Venice in 1607. The chamber ensemble was born in Pisa in 2014 with the intent to create a vocal group performing the sacred and profane European repertoire of the sixteenth and seventeenth centuries. An instrumental core has then been established, allowing the ensemble to broaden its musical perspectives up to the Baroque and Classical periods. The several concerts that have been performed got an appreciation for the punctuality of interpretation and the brilliance of the execution. The ensemble is regularly invited to various festivals, for instance, the "Sound of stones" organized by Auser Musici; in 2019 it inaugurated the Lucca International Festival "Sagra Musicale" at the Teatro dei Rassicurati in Montecarlo di Lucca. In October 2021, for the celebration of the 30th anniversary of the Association of Friends of Pisan Museums and Monuments, the "I Bei Legami" started a project to rediscover and execute nineteenth-century Pisan authors.
Pietro Consoloni, born in Pisa, graduated in Composition, Organ and Organ Composition, and Choir Direction with full marks and academic honors. He is completing his two-year specialization course in Orchestral Conducting at the G. Rossini Conservatory in Pesaro. He's been the co-founder and permanent director of the chamber group I Bei Legami since 2014. In 2021, with the Resonare vocal ensemble from Rome, he was awarded 3rd prize at the National Competition of the City of Fermo. He holds the position of Organist at the Primaziale Cathedral of Pisa. He is currently a Ph.D. student in Musicology at the Pontifical Institute of Sacred Music in Rome.